Get Your Little Monsters in the Bath!
Designed and Sculpted by Award Winning Artist Jonathan Paine
Because Rubber Duckies Are So Yesterday!
You'll have no trouble enticing your kids into the bath with these adorable individually hand painted Classic Monster toys. Each toy is made from Food and Medical grade materials that have passed a rigorous safety inspection and contain zero Lead, zero BPA and zero Phthalates. Each toy is also weighted and sealed, so they will always float upright, are easy to clean and keep mold free!
What Our Happy Customers Are Saying:
Classic Monsters Collection
Legends of the Sea Collection
Regular price

Sale price

$29.99 USD

Unit price

per

Regular price

Sale price

$29.99 USD

Unit price

per

Regular price

Sale price

$29.99 USD

Unit price

per
Why Did I Create These Toys?
Introducing a whole new level of bath-time fun for both you and your little ones! I understand that after a long, hectic day, the last thing you need is a battle to get your kids into the tub. Bath time should be a delightful, stress-free experience, and that's precisely what I'm here to help you achieve. Say goodbye to the bath-time struggles and say hello to our enchanting collection of floating bath toys. These colourful character bath toys are designed to turn your bath routine into a captivating adventure for your children.
Here's Why You'll Love These Floating Bath Toys:
Smoother Transitions

Our toys make the transition from playtime to bath time seamless. Watch as your kids eagerly hop into the tub, eager to explore the water with their newfound friends.

Engaging Design

These vibrant, whimsical characters will capture your child's imagination and keep them entertained throughout the bath. They'll never want to leave the water!

Educational Fun

Our toys are more than just entertainment; they're educational tools. Each one is designed to encourage learning through play, promoting sensory development, hand-eye coordination, and imaginative play.

Safe and Durable

We understand that safety is your top priority. Rest assured, our toys are made from high-quality, non-toxic materials that are built to withstand countless bath adventures.

Parental Relaxation

You deserve a relaxing moment, too. With your children happily entertained in the bath, you can enjoy a few minutes of peace and quiet, knowing they're safe and having a blast.

No BPA, Lead or Phthalates!

Kids put toys in their mouths...so it was a no-brainer to make sure all our toys are non-toxic and totally safe for your little ones!
Kids Just Wanna Have Fun!
So, why make bath time a chore when it can be a cherished bonding experience for you and your kids? Make a splash with our colorful character bath toys today and transform bath time into a delightful adventure for your little ones. Say goodbye to the bath-time battles and hello to unforgettable, joyful moments in the tub!
No Lead, No BPA, No Phthalate.

Kids and Parents approved: Yes

Easy To Clean!

These are so easy to clean. Washes with mild soap and water only and wipe dry with a soft cloth, for years of enjoyment!
Cute and Friendly Sea Monster
Regular price
Sale price
$29.99 USD
Unit price
per
Sale
Sold out
Gilly
View full details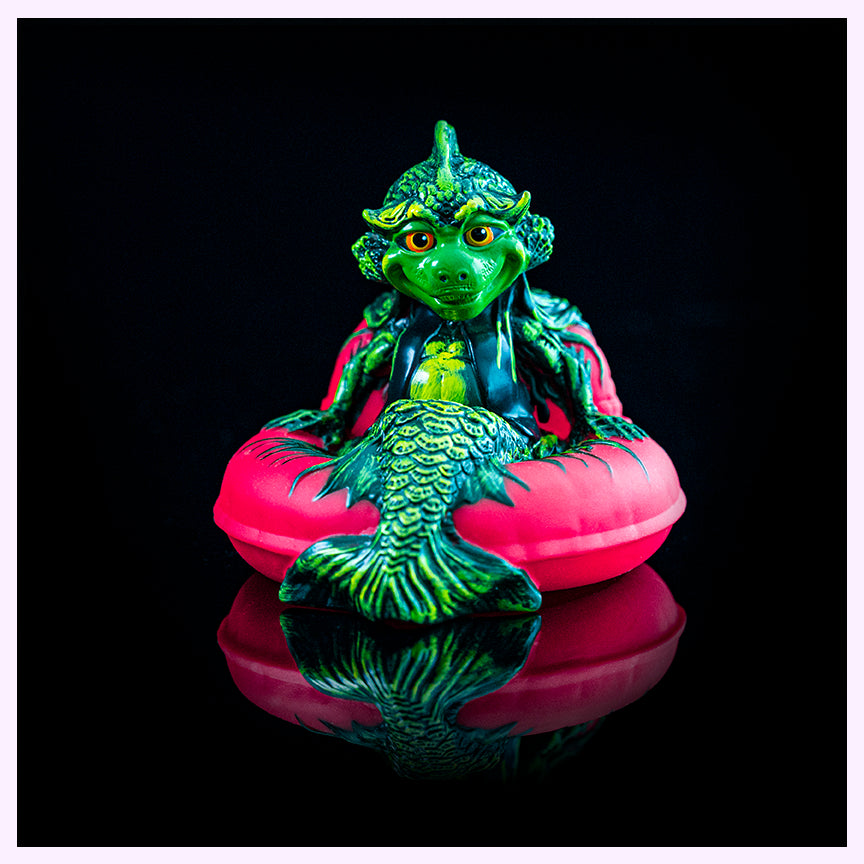 UNBOXING
These toys come in an attractive and colourful box that has been designed so you can, with a little care, pop the toy in and out without damaging the box. Great news for the collector's who like to keep the boxes intact.
Frequently Asked Questions
What about moldy toys? We had to throw our other bath toys out as they got pretty slimy and gross inside!

These toys are weighted and sealed and are very easy to clean, inhibit mold, and will always float upright. Unless the toy gets punctured, it is unlikely to get moldy inside.
Do you make floating Disney characters?

I intentionally make unique characters so that your child has an opportunity to develop his or her own stories around these characters. Why limit your kids to the same mass produced characters over and over?
Are these toys mass produced?

As the manufacturing of these toys is entirely funded by myself, the production runs are quite limited to less than 2,000 per toy.
What makes these toys different from mass produced toys?

Each one of these toys is individually hand painted, so no 2 toys are exactly identical. You can even see the brushstrokes. Having a hand painted product to me is an important aspect of the production.
Do you make custom toys?

I can, but it takes up to 1-2 years for the toy to be manufactured and shipped to the warehouse. So it's not really that practical.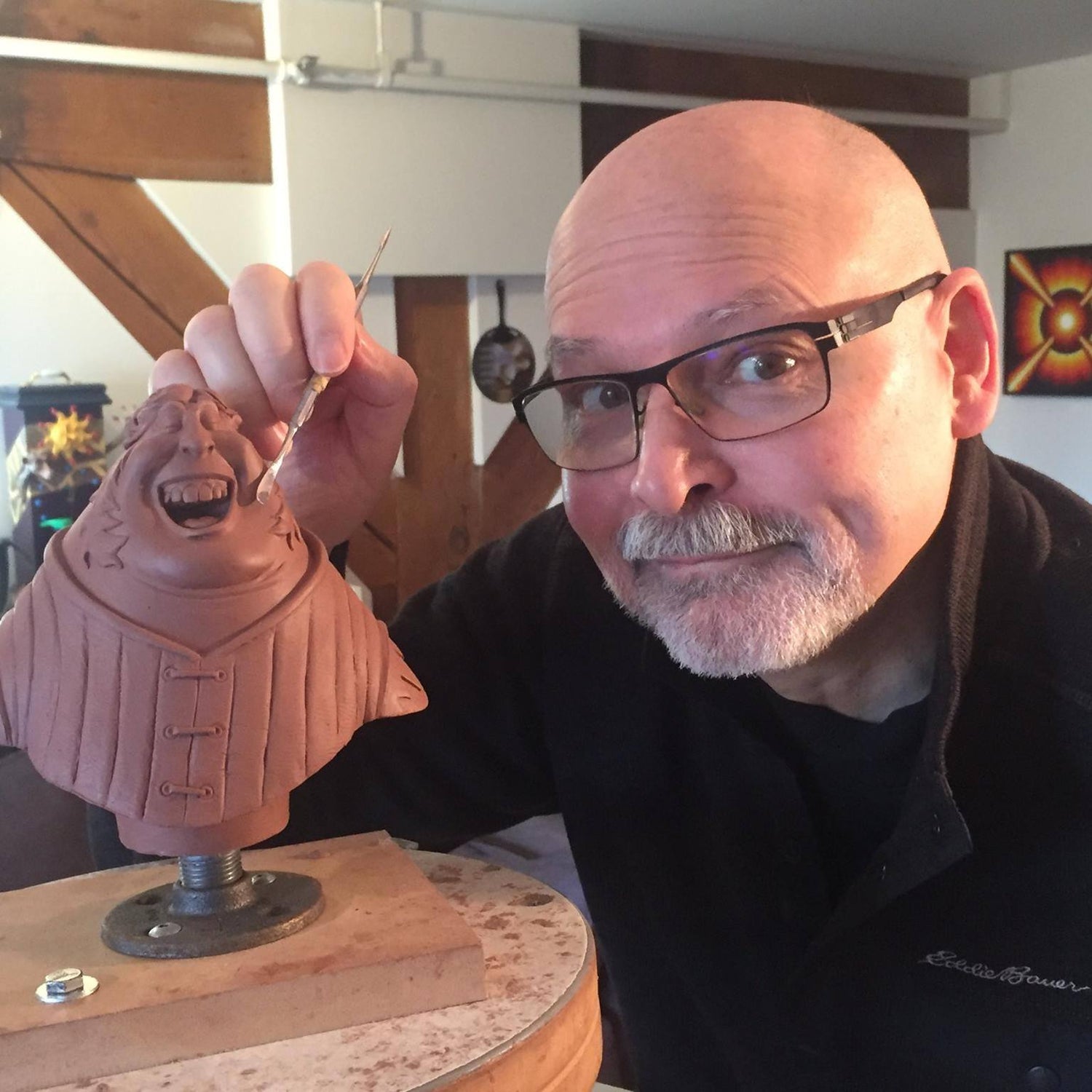 Jonathan Paine the Artist
As an artist I have been very fortunate in my career to have worked on some pretty awesome projects. Examples of some of the many roles are: I have performed as a puppeteer with The Muppets, Sculpted toys for Disney and Looney Tunes, Star Trek lunch boxes and bust banks for Thinkway Toys, and worked as a sculptor, texture artist, and character modeler on the films Ice Age, The Incredibles, Ratatouille, Cars and Up.
Find out why I am sculpting and designing toys for your kids in the following podcast interview.
Maker2Market podcast interviewed me recently to discuss my experiences of starting my toy business. Check out the link below.