Make a Splash in the Tub with our Floating Bath Toys!
Cute and Friendly Sea Monster
Regular price
Sale price
$29.99 USD
Unit price
per
Sale
Sold out
Transform bath time into unforgettable, joyful adventures with our toys!
No more struggles to get your kids into the tub.
Stimulate your child's curiosity and creativity in the bath.
Enjoy a few minutes of relaxation as your kids happily splash around.
Provide a variety of characters to keep your child engaged.
Hand painted collectible Limited Edition Toys, designed and sculpted by renowned artist Jonathan Paine.
This is the tadpole phase of the Creature from The Black Lagoon. Yes even monsters start out as young pups. 
No Lead, No BPA, No Phthalates. These toys are made from food and medical grade materials. Non Toxic!
No Holes. So no nasty mold. Kids love putting everything into their mouths. Feel secure knowing these toys are sealed and won't foster mold growth. 
These toys are all hand painted, so each toy is unique.
Floating Sea Creature Bath Toy
Now Shipping within the US and Canada
Free Shipping Within the USA
Share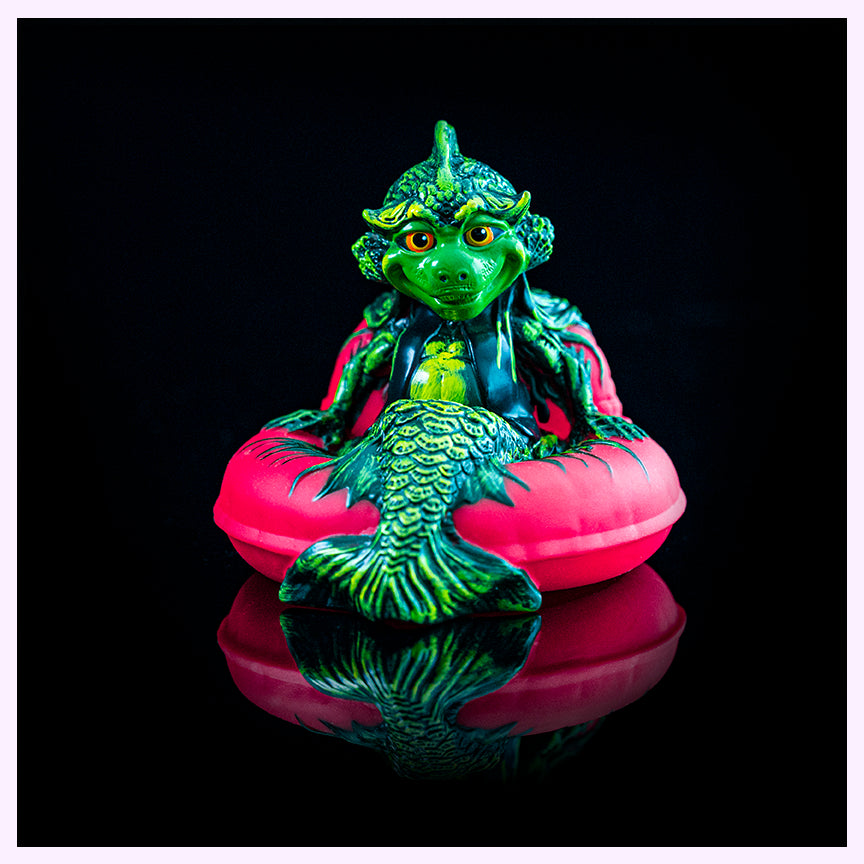 Cool Lovable Characters
These are unlike your average boring rubber duckies. They are highly detailed and individually hand painted little gems that you're sure to love for many many years to come, whether in the bath, or in a collectible display cabinet. You won't find these at your large department store toy shops, and are very limited in number, but you can buy them here directly from me, Jonathan Paine, the Designer/Sculptor/Owner of Not Another Rubber Ducky!®
Free Shipping within the USA

Award Winning Artist

Jonathan is an award winning artist and has been designing his toys from his home studio in beautiful British Columbia!

These Toys Are Safe!

Made from Food and Medical grade materials and rigorously tested, you can rest assured that they won't make your kids sick!
Frequently Asked Questions
Are the materials safe?

These toys are made from Non Toxic, Medical and Food Grade materials which are safe for your kids health and peace of mind.
Are they safe to use in the pool?

Yes, these toys are safe to use in the pool. It is recommended to rinse the toys, after exposure to chlorine from the pool water. Generally the chlorine won't affect the toys, but with years of exposure, you may want to rinse after each use in the pool.
Will they get moldy? Some rubber ducky's get nasty mold inside.

These toys are fully sealed, so unless the toy is punctured, they should remain free of mold inside for a lifetime. Keep the toys away from your pets if you don't want them damaged. Dogs may chew these toys and thus compromise their seal. These toys are also easily cleaned with a little soapy water and a soft cloth.
Will these toys sink?

These toys are weighted and sealed, so they always float upright and won't sink, unless they become damaged by being chewed on by your pet. Keep them away from Spike!
What is the age range for your toys?

The age range is quite broad actually. I've got customers who purchase for the children as young as 1 year and as old as 80! I have several myself and I'm no spring chicken!
Are there any small parts that could pose a choking hazard?

Unless your child has a mouth the size of a Komodo Dragon, then no. The toy is far to large to swallow, even for an adult human.
Are there any specific storage recommendations for the bath toy when not in use?

It is recommended to keep the toy out of direct sunlight for extended periods, as over many months or years the colors may fade.
Do these toys have a noticeable smell?

There is no discernible smell or odour to these toys.